New emergency services center opens on Fort Belvoir North Area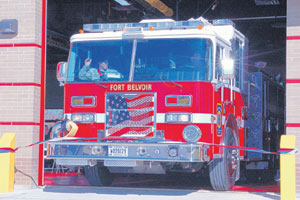 Command Sgt. Maj. Gabriel Berhane, left, and Col. John Strycula, garrison commander, drive a fire truck through a bay at the emergency services center on Fort Belvoir North Area, opening the new facility. Photo by Travis Edwards
With the ceremonial cutting of a ribbon, Fort Belvoir leadership officially opened the Fort Belvoir North Areas new Emergency Services Center Wednesday.
Instead of the usual, oversized scissors, the garrison command team used a new fire truck to cut the ribbon stretched across a large bay door.
It really takes great partnership to make a project like this come together. It is the folks at the [U.S. Army Corps of Engineers], the people who?ll use the facility, and the contractor that make it all work together, said Fort Belvoir Garrison Commander Col. John J. Strycula.
In July 2009, Fort Belvoir broke ground on the $7.2 million, 14,700 square foot facility.
I cannot say thank you enough to the Corps of Engineers Baltimore Districts John Pitts for his helping in making this project a reality, said Fort Belvoir Director of Emergency Services David Parchman.
The facility sits nearly in the shadow of the almost complete National Geospatial-Intelligence Agency New Campus East facility and a new Fort Belvoir Child Development Center that is in the planning stages.
According to Fort Belvoir Fire Chief Patrick Reid, the ESC will house one fire engine, one ladder truck, eight firefighters, two fire inspectors and an assistant fire chief.
Our mission is really to provide life-saving, emergency support for Fort Belvoir and the surrounding communities as well as supporting the NCE and CDC, Reid explained. And, of course, the ESC will also provide continued support to the posts mutual aid agreements in the surrounding communities.
While not a BRAC project, it is BRAC-related in that the growth of Belvoir created the need for another fire station within easy reach of Belvoir facilities and tenant agencies, officials explained.
The Baltimore District of the U.S. Army Corps of Engineers managed the project while a construction team from Grunley/Goel built the facility.
It is rewarding to have been a partner to DES and Fort Belvoir in creating this facility. A lot of credit goes to the firefighters who helped us to understand what they needed and to our contractor and small business partner for delivering the value that they did, said program manager John Pitts, U.S. Army Corps of Engineers Baltimore District. We hope that this building makes the tough job that our firefighters and law enforcement officers do, a little easier.
By Travis Edwards
Fort Belvoir Public Affairs